The cost of shipping has been the bane of e-commerce. Brick-and-mortar stores may receive an entire day's inventory in one large truck, and their walk-in customers pay no extra fee for shipping. Internet sites, by contrast, must pay to ship each order.
As a result, offers of free Internet shipping, once common among online merchants, have vanished like an ice cube on a barbeque. Today, none of the 50 biggest e-tailers provides free shipping as a standard service, according to market research firm Jupiter Media Metrix.
Instead, some e-tailers have gone to the other extreme, using shipping and handling charges as a major profit center.
One consumer who's making a fuss about this is Dennis Hays, who owns a small New York business eponymously called Dennis Hays Information Design. He's posted comments on a Web log accusing auction site uBid of claiming twice the actual shipping weight of items it puts up for sale.
In this way, Hays says, uBid can collect more shipping and handling charges, making up for successful bids that may have been lower than the company wanted.
Examining the auction site, I found that uBid fully discloses the shipping and handling charge before any order is completed. The charge usually includes a flat fee--such as $6.99 for Federal Express Ground shipment--plus 99 cents per pound of shipping weight. But that's where Hays says the merchant's thumb presses down on the scale.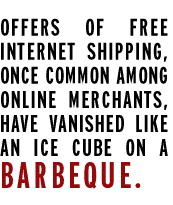 As an example, Hays describes a Compaq computer he ordered for use by his mother. uBid reported the shipping weight of the computer as 36 pounds. But the FedEx tracking records he received showed that the shipment weighed only 18 pounds.
Thinking this might have been an honest error, Hays then bid for and won a networking hub in a subsequent uBid auction. In this case, Hays says, uBid reported the hub's shipping weight as 5 pounds. But FedEx recorded only 2 pounds.
I asked other uBid customers whether they'd had the same experience. Several shoppers confirmed what Hays found.
Chris Lusk, from Washington state, successfully bid for an Aiwa stereo receiver at uBid. The auction page listed the product's "shipping weight" as 5 pounds. But the FedEx tracking slip reported the total weight as 3 pounds.
Alan Cohen, vice president of marketing for uBid, said in an e-mail that "uBid's total 'shipping' cost includes not only shipping but also handling. We recognize that with handling charges, our total shipping costs may in fact be higher than other sites, but the fee associated with handling is in place for the protection of our customers."
He added: "This fee covers insurance, repackaging, distribution and tracking as well as administrative processing. With the handling fee included, we still provide customers terrific value and savings up to 70 percent off retail prices."
As long as uBid reveals its shipping and handling charges before the consumer completes a purchase, the company can charge almost any amount a consenting adult is willing to pay. One may wonder why uBid doesn't simply raise its fees from 99 cents per pound to $1.98 per pound and use FedEx's actual reported weight, so as not to irritate its customers. But that's a business decision that uBid apparently hasn't made.
Consumers who are concerned about extra charges should use price-monitoring services to research various merchants' delivery pricing before buying. On the Web today, shipping fees aren't going away.
Brian Livingston's Wired Watchdog column appears at CNET News.com every Friday. Do you know of a problem affecting consumers? Send info to tips@BrianLivingston.com. He'll send you a book of high-tech secrets free if you're the first to submit a tip he prints.