In a memo to computer resellers, Microsoft says informants who report a total of 1,000 Windows-free PCs will win a "Fast Cook & Grill Combo and Travel Chair." Those who report 250 "bare" PCs win a CD containing five game programs.
So if you assume Microsoft earns about $50 for each installed copy of Windows, catching a corporate crook with 1,000 hot PCs would bring in $50,000. The contest, therefore, should result in big bucks at little cost to the Redmond, Wash., software giant
Reason for low profile
Every software company has a right to be paid for every installed copy of its products. But Microsoft, for some reason, didn't publicly announce its lucrative contest in a press release. The company has good reason to be a little sensitive. The U.S. government in 1990 accused Microsoft of coercing computer resellers into paying a fee for each PC they shipped, whether or not a Microsoft operating system was actually installed. This action long preceded the separate antitrust case filed in 1998 by the Dept. of Justice and 19 states.
Microsoft's contracts in the late '80s and early '90s created a financial disincentive for resellers who installed competing software. Years before Windows became popular, Microsoft's dominant MS-DOS product battled with Digital Research's arguably superior DR-DOS and various forms of Unix.
Microsoft felt so threatened by Digital Research that chairman Bill Gates in 1989 ordered his programmers to look for ways that the company's application programs could be made to run on MS-DOS but not DR-DOS, according to court documents.
In the end, Microsoft signed a consent decree with the U.S. Dept. of Justice in 1994, agreeing to stop charging a fee for each PC sold. In the interim, DR-DOS had shriveled to a tiny share of the market and Digital Research was purchased in 1991 by Novell.
Much later, the rights to DR-DOS were purchased in 1996 by Caldera Systems, which promptly filed suit against Microsoft for its alleged anticompetitive behavior. The lawsuit was settled in January 2000 with Microsoft paying Caldera an undisclosed amount that analysts estimated at $150 million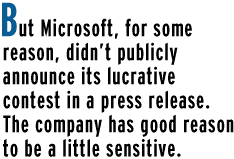 Considering all this history, Microsoft's new whistle-blower contest could become a fascinating part of the government's current antitrust case. Despite the dominance of Windows on desktop PCs, Microsoft software still runs only a minority of Web servers, according to recent surveys.
It's entirely possible that a company buying bare PCs could be planning to install FreeBSD, Linux or other server software.
Microsoft's contest came to light when it was revealed by Andrew Grygus, CEO of Automation Access, a computer systems integrator that sells software from Microsoft as well as Novell, Caldera and others.
Grygus said in an interview, "They have every right to bust people who sell counterfeit software. But I don't know what the internal deal of a customer is, so I don't think it's right for me to turn in a customer to Microsoft because of how their RFQ (request for quotes) reads."
Microsoft reaction
Microsoft spokesman Matt Pilla says the contest isn't intended to sniff out companies using competitors' products.
"Many resellers tell us that they're receiving requests from customers for (PC) systems without operating systems, and the reason they give is that they're covered by an existing site license," Pilla said. A Microsoft site license allows a company to upgrade Windows for a single fee only on existing PCs, not on new PCs, although licenses for Microsoft Office do allow unlimited upgrades.
Despite Microsoft's intentions, however, its history of legal battles makes many people nervous. Pilla said he hadn't yet heard of any systems integrators actually turning in any of their customers. Such a brave reseller would surely deserve a prize.
Brian Livingston's Wired Watchdog column appears at CNET News.com every Friday. Do you know of a problem affecting consumers? Send info to Brian Livingston. He'll send you a book of high-tech secrets free if you're the first to submit a tip he prints.