Competitors of Network Solutions (NSI) are furious over what they say is the Virginia company's refusal to put unpaid names back into the "pool" for others to register.
"This act is completely and utterly illegal," said Sasha Mornell, senior vice president of Register.com, the second-largest registrar. "It's an abuse of their former monopolist power."
Michael Mann, president of BuyDomains.com, said, "There are at least 1 million names that are currently being hoarded by Network Solutions."
Mann's company searches public databases to track how many names should be available, but aren't. He said in the month of May alone, 207,448 ".com" names expired and were kept off the market by NSI.
"Since this doesn't include '.nets' and '.orgs,' we estimate the total number to be approximately 300,000 names per month they're hoarding," Mann said.
NSI used to delete expired names from the central registry database it maintains, making those names available for others. But Mann said NSI hasn't released any expired names to the pool since May 31.
The issue is red-hot because NSI announced in May that it plans to begin auctioning domain names.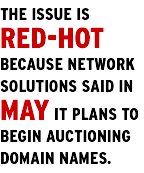 Asked how many names NSI itself might auction, senior vice president Roger Cochetti said most business services that accept credit card orders experience a "2 to 5 percent charge-back rate." At that rate, he said, NSI "would generate between 200,000 and 500,000 registrations that were unpaid each year."
Angry competitors, however, are certain that the names NSI is keeping off the market are far more numerous.
They cite NSI's annual report, filed March 30 with the U.S. Securities & Exchange Commission. The report states that "from September 1995 through December 1999, approximately 36.5 percent of registrations have ultimately been deactivated for nonpayment."
As NSI had registered more than 10 million domain names by December 1999, a 36.5 percent rate of nonpayment would result in more than 3.6 million unpaid names.
Asked how many unpaid names NSI still holds, spokeswoman Cheryl Regan said, "We do not disclose the number of unpaid registrations--only paid registrations--in our quarterly results."
Instead of returning unpaid names to the pool, Mann charges that NSI is unilaterally extending its expiration dates. This would make these names appear unavailable to others.
I was able to confirm that this kind of extension--a sort of life-support for terminal domain names--has occurred.
Keven Graves, general manager of the Nisqually Valley News in Yelm, Wash., said NSI extended the expiration date of his company's domain name, Yelmnews.com, from March 2000 to March 2001, without his company's permission.
Graves said he had so many problems updating his contact information with NSI last winter that he hoped the name would expire so he could register it with someone else. But the involuntary extension means Graves' registration remains with NSI, which charges $199 for an "expedited" transfer.
It's unclear what the Internet's coordinating body, the Internet Corporation for Assigned Names and Numbers, or ICANN, will do about NSI's proposed auction of unpaid names.
"Some of the features of the proposed auctions might violate our agreements," said Louis Touton, ICANN's in-house legal counsel.
Touton said ICANN has not made a decision about whether to take any specific action to stop NSI from auctioning names.
NSI has postponed its planned auction by 40 days in response to ICANN's concerns, Cochetti said.
The domain names at stake may not be worth millions, but that doesn't mean someone out there wouldn't like to use them. Such workable names as FineLine.com, MassCommunication.com and AerialServices.com expired months ago but still cannot be registered through any registrar.
Considering how it has been keeping names like these off the market, NSI might consider buying one of those warehoused names for itself--CentralControl.com.
Consumer advocate Brian Livingston appears at CNET News.com every Friday. Do you know of a problem affecting consumers? Send info to tips@BrianLivingston.com. He'll send you a book of high-tech secrets free if you're the first to submit a tip he prints.